EU restates opposition as Ursula von der Leyen warns of challenging times ahead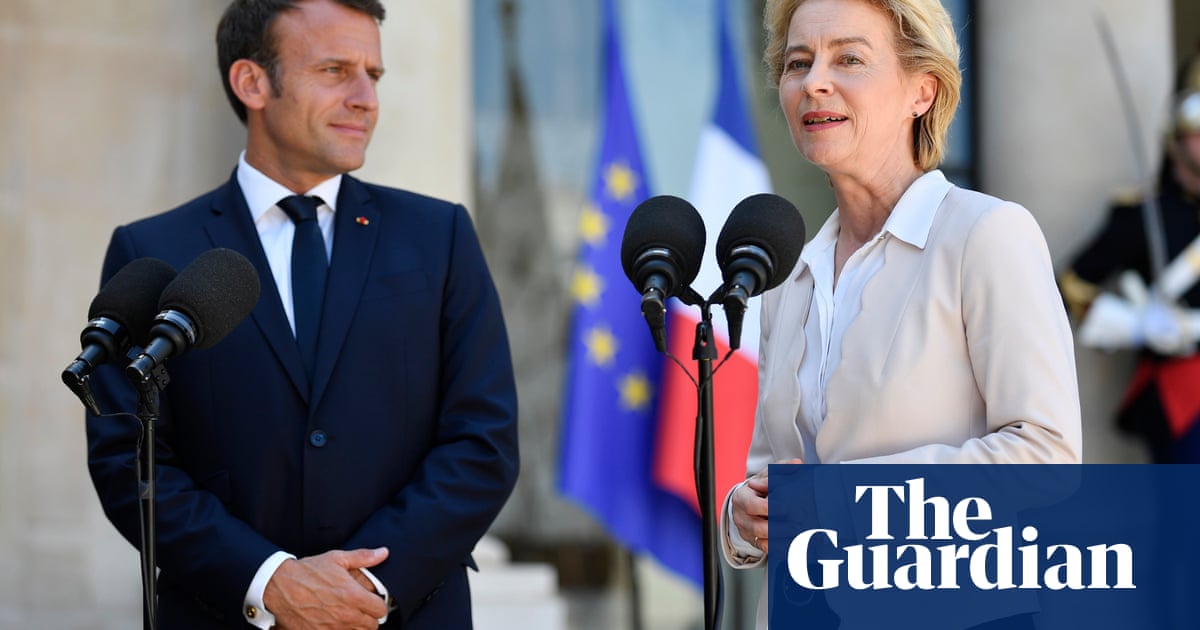 Boris Johnsons election as Conservative leader has been greeted in Brussels with a rejection of the incoming British prime ministers Brexit demands and an ominous warning by the newly appointed European commission president about the challenging times ahead.
Ursula von der Leyen, who will replace Jean-Claude Juncker on 1 November, said both sides had a duty to deliver a deal as she offered her congratulations to Johnson on his victory.
There are many difficult issues we will tackle together, she said. It is important to build up a strong working relationship because we have a duty to deliver something which is good for the people in Europe and the United Kingdom.
The EUs chief Brexit negotiator, Michel Barnier, tweeted that he wanted to work constructively with Johnson on the basis that both sides were committed to facilitating the ratification of the withdrawal agreement, the deal struck by Theresa May that the new Conservative leader has repeatedly described as dead.
The French president, Emmanuel Macron, said he wanted very much to work with [Johnson] as quickly as possible and would call him when he is officially prime minister.
But in an indication of the political baggage that Johnson will bring into Downing Street, EU officials felt free to take potshots in the hours immediately before the announcement of his election by the Conservative party membership.
One eastern European commissioner, Vytenis Andriukaitis, likened Johnsons unrealistic promises to those of the former Russian president Boris Yeltsin, whose empty rhetoric was said to have ushered in the authoritarian rule of Vladimir Putin.
The Lithuanian health commissioner, Vytenis Andriukaitis, wrote in a blogpost published on the European commission website: It is a different Boris, of course, but there was something in the way of doing politics that was similar: many unrealistic promises, ignoring economic rationales and rational decisions.
These decisions led to a new autocratic constitution and finally paved the way to Vladimir Putin. Today in Russia we have oligarchs, a pseudo-market economy, a regulated, governed pseudo-democracy. And, Putins authoritarianism. For Boris Yeltsin, the warning came true: Boris, you are wrong. Hopefully, it will not be the case for Boris Johnson if he is elected today.
Andriukaitis added: I can only wish him luck in taking back control, spending more money on the NHS, swiftly concluding new trade agreements. In other words, I hope and wish that he does not give anyone a reason to use the quote Boris, you are wrong against him.
During the leadership campaign, Johnson said he would scrap the Irish backstop and hold back the UKs 39bn financial settlement until the EU agreed a comprehensive trade deal.
At a press conference in Brussels, Frans Timmermans, the former Dutch foreign minister who is Junckers deputy in the commission, stood by his recent comments in which he accused Johnson of playing games with Brexit, adding that the new prime ministers character, persona, attitude would have no bearing on the EUs negotiating position.
Timmermans said: He took a long time deciding whether he was for or against Brexit. And now his position is clear. I think the position of the EU is also clear. The United Kingdom reached an agreement with the European Union and the European Union will stick to that agreement. And we will hear what the new prime minister has to say when he comes to Brussels.
Timmermans, who insisted the British public had not voted for no deal when they voted for Brexit in 2016, told reporters: I think what came out of the negotiation is the best possible solution in a very complicated situation. It does justice to both the position of the EU and the United Kingdom and I would hope we can continue to work on the basis of that assumption.
I think if you have an agreement between a country and an organisation like the EU I think its the responsibility of us all to stick to that agreement and make it work
The worlds politics is rife with colourful people these days and if you cant deal with them there is not much you can do I dont think his character, persona, attitude makes any difference in that sense. We reached a deal that was the best possible deal and I hope this is something that is understood in Westminster.
Read more: https://www.theguardian.com/world/2019/jul/23/brussels-greets-boris-johnson-victory-rejecting-brexit-plans